Leather boots tend to wear off, lose shine, and look faded over time. This is even more common with brown or tan shades. Instead of throwing your faded boots away, you can take some easy steps to darken them up again. This will breathe a new life into your old pair and save you some money too.
Not all methods to darken your leather boots are flawless. A little tradeoff is acceptable though. This is the exact list of side-effects that may occur while darkening leather, and we are trying to avoid it.
Leather falling apart.
Hardening of the leather.
Shrinkage of the boots.
Creases all over the surface.
Even worse fading
Discoloration of the leather.
Odor that doesn't leave.
Scared? Don't be.
In this guide, I have excluded any leather darkening method that may have even a remote chance of ruining your lovely pair of boots. Enjoy reading.
Prepare Your Boots For The Best Results
This is important. You'll need to spend some time to prepare your boots so that they respond well to the leather darkening treatments. This step is crucial, so don't skip it.
1. Remove Any Dirt Buildup
If there is any dirt build up on the surface of your boots, clean it up first with a clean cloth. Otherwise, during the darkening process, the dirt may settle deep into the leather and may ruin the results. So, it's essential to make sure the leather is clean.
Generally, both water and soap are harsh on any leather but we do need them to clean the surface. Here's how to do it right and avoid the ill-effects:
Pour one drop of dish soap on a rag and put it under the running faucet. Wring it hard until most of the water leaves the rag leaving it damp.
Use the rag to clean the leather surface. Clean in a circular motion as this is the most effective way to lift the dirt from the pores.
Let it air dry.
Please avoid leaving the boots under the sun to dry them. It will take only a couple of hours max for the boots to air dry in the shade. If you want to speed up the process, you can use my guide on how to dry leather boots.
Sidenote 1: Instead of using the water & soap method, you can use a vacuum cleaner to suck dirt and grime. Or, you can apply both methods. It will double sure that you worked out any remaining dirt that may screw up the results.
Sidenote 2: If you don't want to take a chance, I'd recommend you wash your boots with saddle soap instead of any regular soap.
2. Do A Small Patch of Test
Some leathers don't respond well even to the best techniques that are proven to darken the leather boots. On the other hand, some over-respond and tend to look very artificial after the treatment.
I recommend, before you apply any method on the entire surface of your boots, always test on a small area of the boots that is less noticeable, i.e., around the heel area.
Lets Dive Into The Home Solutions To Darken Leather Boots
You don't need to use all the techniques below. Still, it's good to know your options and choose one or a few that suit your current budget and supplies. Each of them is effective on most types of leather. Let's start:
1. Vegetable Oils: Olive And Coconut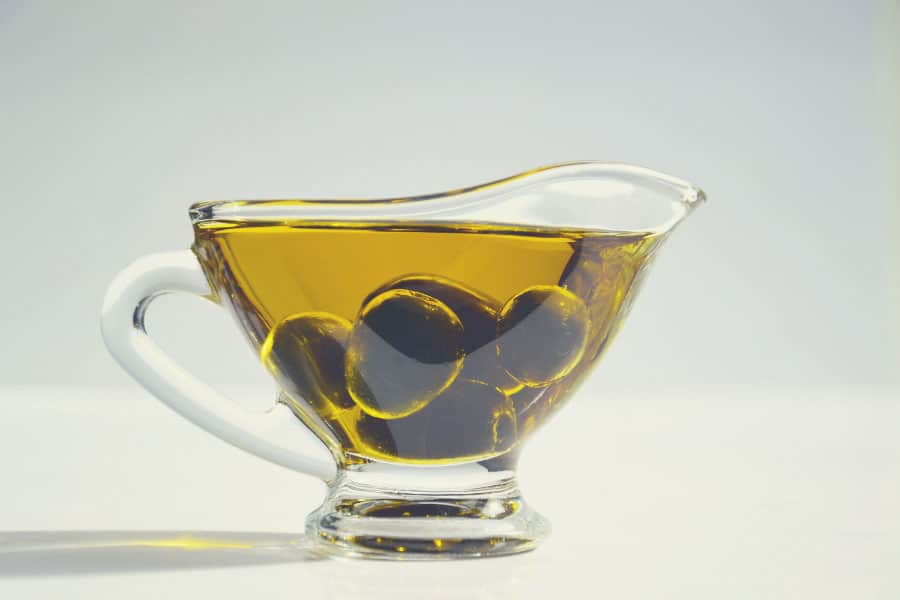 Vegetable oils are available in most households. You may easily buy them from a local store nearby. They are very useful at darkening the leather boots.
Olive and coconut are my favorite oils to darken leather boots.
Some other options are sunflower, soybean, and canola oil, but I have not seen great results with them. So I recommend you stick with the olive and coconut oil only.
Here's a precaution though. Before meeting oil with the leather, make sure it is liquid and not frozen. Feel free to heat the oil with a blower or a small heater to make it melt.
Once the oil is melt, you are ready to follow the following steps to darken your leather boots with olive and coconut oil:
Look around your house for a bowl and a clean rag.
Pour some oil in the bowl and dip the rag in it. Smear the rag very well.
Wring the rag hard in the bowl to rid it of excessive oil.
Using the rag, apply the oil from toe to heels.
Make sure to apply the oil in a circular motion only so that it can seep deep into the leather.
Now it's the time to air dry the boots for 24 hours. Before that, make sure you worked up any oil drops on the surface.
Repeat if necessary.
There's a high chance that you will achieve your desired shade of color after the first coat. Still, if you want an even darker color, you can repeat the process for a couple more times. Be careful though, more rounds of oil may darken the leather boots too much or leave them tacky.
2. Leather or Animal oil: Neatsfoot and Mink
Some oils like neatsfoot and mink work great to darken any leather. They are procured from animal fats. Hence, the name- animal oils.
They generally tend to produce better and darker results than vegetable oils. The only catch is that they are not usually available at home and you may have to buy them from a store nearby.
The process of applying these animal oils on your leather boots is different than with vegetable oils. I have laid it out here:
Animal oils are extra-effective at darkening the leather boots. So, you must be careful and use them only in a tiny quantity. If in doubt, always go for multiple coats of small amounts rather than one big coat.
Animal oils come in a greasy formula, so you don't need a rag or washcloth to apply them on the boots. Dab your finger in the container and take a small amount of oil.
Now spread the formula on the entire surface of the leather boots with your fingers and thumb. Do it in a circular motion only. Massage until it seeps deep into the leather.
Both neatsfoot and mink oil are very stubborn at drying, so don't go the air dry way. Instead, put your pair of boots near a heat source (at least three meters away from the source) or near sunlight (but in shade) to speed up the process.
Despite the cost and long dry time, this method has some extra perks, such as waterproofing the boots.
Specialized Solutions: Polish, Blends, and Dye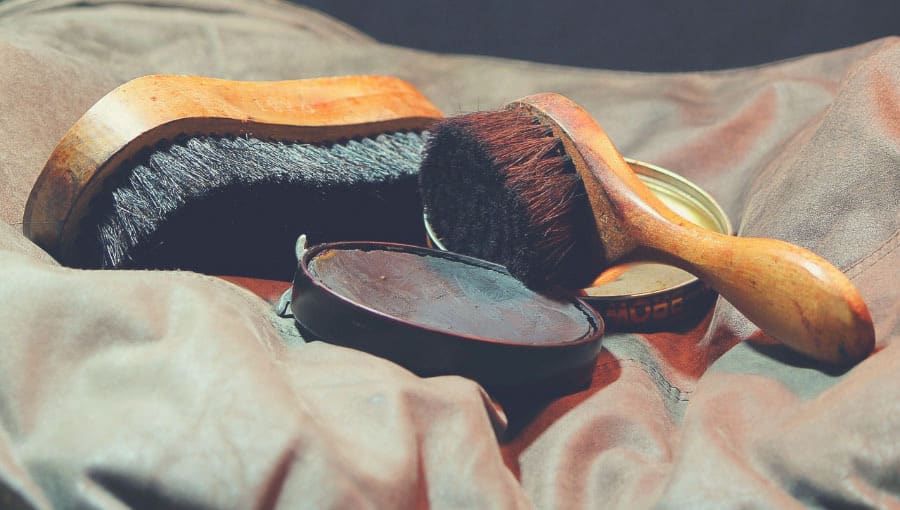 1. Boot Polish
Polish is the easiest method to darken your leather boots. The only caveat here is that the results may not last long, and you may end up repeating this method often.
Choose a polish of a color that is several shades darker than the current color of your leather boots.
Make sure you pick the darker shade in the same vertical of your boot's current color.
Apply it throughout the boot surface using a brush followed by a buff with the same brush or a clean cloth.
2. Oil Blend
A blend makes your leather boots look darker without making them look artificial. It is a mix of oils with some added scents. If you don't mind shelling out some extra money, I recommend you try this method out.
Even if you overuse it, it won't ruin your pair. Still, don't take this for granted and test it on an inconspicuous are first.
The process of using a blend on your boots is the same as that with animal oils. Plus, read the manufacturer's instructions too.
3. Leather Dye
A leather dye is a commercial solution to make your boots appear darker permanently. It doesn't make the current color of your boots darker but coats an entirely new color on your boots. I recommend this method if you want to change the color of your leather boots permanently. There's no going back.
I'm not a big fan of this method as it involves some chemical exposure. Plus, the alcohol-based dye may make the leather too stiff, whereas, the water-based dye may make the leather too soft.
If you want to try dye on your boots, make sure you are wearing gloves and are in a well-ventilated area of your house. I added it to the list because it's an effective way to darken your leather boots. Use it if everything else fails. You may find more information on this method here.
Before You Go…
That's pretty much everything you need to know about how to darken leather boots.
I recommend you pick the techniques in the same succession as they are laid out in this article. If you don't mind shelling out some money and don't want to take a chance, then skip to the commercial solutions. Otherwise, oil-based options are enough to get good results.
Before we call it a day, I want to leave you with one crucial piece of advice. Always lay some newspapers on the floor before messing up with oil. Otherwise, the oil may spill all over the floor and it's a torment to clean the spilled oil.